All About Lottery Man is the seventeenth comic in
Bravoman: Super Unequaled Hero of Excellence
.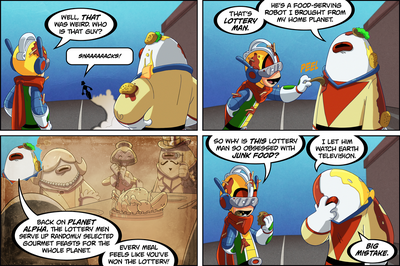 Characters
Edit
Alphaman explains that Lottery Man is one of the many robot butlers from Planet Alpha. They made feasts for their masters that where so good it made them feel like they won the lottery. But Alphaman is now obsessed with snacks due to exposure to Earth culture.
The Alphans in Alphaman's flashback are actually his parents.
The snacks on Alphaman differs between panels.
Bravoman: Super Unequaled Hero of Excellence
Comics
The Beginning




The Origins of Bravoman, Alpha Tale, Listen Up Bravo!, Strange New Power
Evil Rises
Meet Dr. Bomb, Anti Bravo Rises, Pre-Empted, Pointy Princess, Don't Use The Force, The Princess Pride, Brav-mobile, Mid-Boss, Product Placement, Inside Info, Bravo Copterjet, Snack Attack, All About Lottery Man
Heavy Metal Ninja!
Fancy Angles, Higher Power, Oh Snap, Universal Humor, We Can't Hear You
Bravowoman Appears




Super Bravo Robo, Hidden Ally, Bravo Buddies, Dr. Bomb Is In, Rooftop Ramblings, Bravo-Who?!, The Origin Of Bravo Woman, Good Effort
The Secret History of Bravoman




Bravo the Barbarian, Bravobots, Bravo-Chan, Bravoman & Alphaboy
The Karasu Tengu Dojo




Best Friend's Ride, Passenger Side, Skillful Snacking, Sneaky Surprise, Pestering Princess, Hckkk!, Forgotten, Uh-oh at the Dojo, Alpha Logic, Daimyo Drop-In, Super Fan, Save the Princess!, Save That Other Guy!, Trivial Tower, Daimyo Dealings, Princess Problems, Mrs. Bravoman?, Budget Man, Fiendish Figures, R.C.M.
Enter: Braveman




Good Writing, Anti-Brooding, Template Comic, A Brave Fan, Brave Man, Bravoman With a Plan, Familiar Faces, B-R-A-V-O Spells Bravo!, Brave Words, Lawyered
My Name is Zortan




The Start of... Something!, Zooortaaaan!, Bravo in Trouble, Secret Power Active!, We Be Scrollin', Breaking Various Walls, It Figures, For Ages 5 and Up, Downside Up, Whiney Hime
Bravo X Momo




Bravo X Momo Cover, Bravo X Momo Part 1, Bravo X Momo Part 2, Bravo X Momo Part 3, Bravo X Momo Part 4, Bravo X Momo Part 5, Bravo X Momo Epilogue
The Ninjas of Karasu Tengu Dojo




Look What Happens, Complex Formula, Complex Formula, Please?, Happy Halloween!, Alt Colors, Daimyo's Dearth, Always Blend In, Eternally Scarred
Mrs. Bravoman




Note the Notes, Woman Wonderings, Karma Calling, Ninja Challenge, Test:FAILED, Action-Heavy Filler Strip, Bravo Comes Clean, RCM Returns, Mailbag, Anti-Tank
Braveman Returns




Number 100!, Bravo Balance, Fortune Favors the Brave, Brave Button-Pusher, Anti-Mech, Love-Bot
Alpha Clause




The Return, Anti-Bragging, Alpha Clause Part 1, Alpha Clause Part 2, Time Thieves
Rise of Bravomaster




Rebirded, Memory Alpha, Space Jam, Welcome to Planet Alpha, Alphamily, In Need of Allies, Embravoment of Riches, Bravo Recruits, Bravo-Corps (Webcomic), Zulu's Wrath, Wrath of Zulu, Continuity!, Sucks to Be Anti, Bravular Fusion, Bravo Branding, Maneuver: X-Ray, Maneuver: Yankee, Maneuver: Zulu, Final Maneuver, Bravilogue, Back Seat Bravos, Reflections, Mismarketed, Unnecessarium
Waya Gaiden




What is That?, Waya Gaiden Part 1(of 9), Waya Gaiden Part 2(of 9), Waya Gaiden Part 3(of 9), Waya Gaiden Part 4(of 9), Waya Gaiden Part 5(of 9), Waya Gaiden Part 6(of 9), Waya Gaiden Part 7(of 9), Waya Gaiden Part 8(of 9), Waya Gaiden Part 9(of 9)
Legal Problems




The Secret Origin of ???, The Secret Origin of Anti-Bravoman, Extremity Embroilment, Fan Dominance, Voice Virtuoso, Autograph Hound, A.B. Meets A.B.,Lady of the Law, Stolen Bravery, Brave Demands, The Origin of Braveman
Under Water




Let's Get Wet, Underwater Ups & Downs, Close Captions
The Return of Bravo the Barbarian




Savage Sword of Bravo, Brutal Blade of Bravo, Dire Dagger of Bravo
Under the Helmet




First Look, Second Look, Third Look, I am the Everything, Denizens of the Street
Wrath of Zed




Sold Separately, Triangulated, Starship Surprise, Wrath of Zed, The Big Two-Five, Looking Back
Binja Battle




The Manual, Double Trouble, Target Practice, Blasteriffic, Point Blank, Boisterous Benjamin, Cyber Attack, Cut Short, Loot Lugging, Skeletonicity, Vintage Vending
The Adventures of Bravowoman




Legal Matters, Titanic Transformation, BWHQ, Bravowoman: Sidekicked!, Imminent Emergency, Gargantic,Fish-Folk Frenzy, Amphibious Interrogation, Building Breakdown, Voice of Experience, New Tactics, Non-Lethal, Bravo Beef, Phone Friends, All Figured Out, Revenge of the RCM, The Suit Makes the Bravo
Ninja Dungeon




Pet Pals, The Big Wheel, Shadowy Shape, Daimyo Dungeon, Garden of Blades, Well-Hidden, Basket Case, Fair is Fair, What Time Is It, Pink Premonition, Waya the Weaponeer, Totally Tailed, Quick Change, My Salary Identity, End of the Line, Daimyo Drawings, Feudal Funnies, Homecoming, Zed Trauma
Random Shenanigans




Pickup Order, Gauntz, Full House, Hangin' Out, Three, Unsuperfulous, Charting It, Interrobang, BravoQuest, Orange You Mad
Big Binja Battle




Half Past Yoink, Well Said, Blast Tactics, What's in a Name, Binja Pile, Something Assault Mode, E-Seekers, Cyberetcon, Hold It
Return to Bravo-Chan




Shiftyween, Skykidding, Bravo-Chan: Accessorize!, Bravo-Chan: Espressionize!, Bravo-Chan: Extenderize!
The Reverse Universe




Fishy Food, Because Zed, Namovarb, What the Hime?, Blast Effect, Waya Wile, Bizarre Bravos, Who Indeed, Of Course, Putting it in Reverse, Reverse Flashback, The Fifth Wall, Anti Impression, Starship Shape, Lotsa Fightin', Double Bravo, Bravo Split, Sanctum Snooping, Birdie Battle, A Sidekick Revealed, Too Many Bravos, An Anti-Hero Revealed, Reverse Revelations, Composite Bravo, Blue Skies Ahead, Salary Strike, Broken Borders, Denouement is a Fancy Word, Let's Get Preposterous, A.B. Classic, Home Sweet Augh, Iron Frizz, No Context, No Resolution, Le Petit Prince, Umpteenth Toy Strip
Fight On Beraboh Man!




The Secret History of Beraboh, Beraboh Man: Part 1 (of 6) Beraboh Man: Part 2 (of 6), Beraboh Man: Part 3 (of 6), Beraboh Man: Part 4 (of 6), Beraboh Man: Part 5 (of 6), Beraboh Man: Part 6 (of 6)
The Death of Bravoman!




Prelude to T.D.O.B., Countdown, Ebony Warning, Double Yoink, Bravomorph, Modified Merger, Zulu Reborn, The Way of the Waya, Popcorn Gallery, Zulu Protocols, Zulu Unreborn, Far Enough, Final Countdown, The End of Bravoman